ABOUT US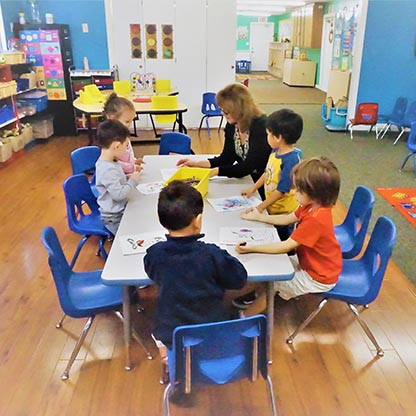 Since 2014, La Habra Montessori Preschool has had its very own Infant Care Center, and we have extended our services to provide a Montessori Kindergarten experience to our children. Our students receive a well-rounded academic education in accordance with the philosophy of Dr. Maria Montessori. They not only develop their academic skills, but also their aesthetic and artistic abilities, allowing them to grow into well-rounded individuals and global citizens.


INFANT CARE

---
La Habra Montessori Preschool opened its very own Infant Care Center in 2014. In the infant class, infants as young as 12 months will be introduced to basic Montessori activities such as sensorial, practical life, numbers, letter, shapes and colors. Infants will do singing, dancing, story time, arts and crafts.
QUALIFIED STAFF

---
Our well trained and qualified staff endeavors to provides a loving, safe, nurturing, and great educational experience to our children. Our strength is our loving staff. Each one of them brings a wealth of knowledge to our organization. We are a diverse cultural and religious institute that provides our children to accept and respect all cultures and religions. 
DIVERSITY

---
We believe that full Montessori educational excellence requires a diverse community. We strive to create an environment that fosters peace, embraces diversity and encourages a diverse population. Our goal is to promote inclusion and collaboration, supporting an environment of openness where the exchange of ideas is appreciated and encouraged. 
MULTI-CULTURE

---
Multicultural education is an integral part of the Montessori philosophy. Our curriculum respects the individuality of each child, creates a community of cooperation and nurtures a sense of wonder and curiosity about our differences. We honor and actively explore the varied backgrounds and cultures in the world. Students are encouraged to appreciate different perspectives, identify and reject stereotypes and prejudices, and work for equality and justice within the school and the world. 
RACE - GENDER - RELIGEON - FAMILY

---
La Habra Montessori Preschool enjoys a diverse community of students, families, and staff, and supports differences of gender, race, religion, family structure, socio-economic level, age, sexual orientation, and learning style. We strive to maintain a collaborative environment rooted from the sharing of experiences, ideas and unique qualities that each of our members brings to the school. Our goal is that through these efforts, each member of our community will feel valued and understood